Botox Davis
Before & After Photos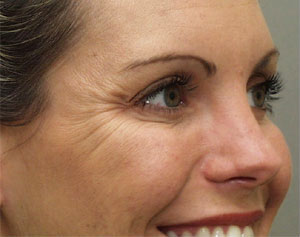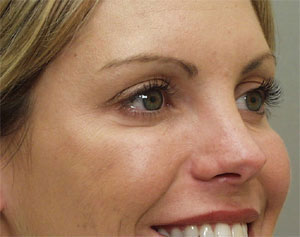 Individual results may vary
Botox Photo Gallery
"My goal is to make you look rested and not overdone. You receive an individualized treatment plan based on your treatment goals. I believe that treating with BOTOX® provides both present and future benefits in slowing the aging process and helping your skin maintain its youthful appearance."
Training matters…While in residency, I spent many years training to inject BOTOX® by several of the country's leading experts in cosmetic dermatology and have been injecting since 2007…..Dr. Earlyn Noll"
Dr. Noll has extensive experience with BOTOX® in Sacramento. She is versed in its use in several locations, including the upper and lower face.
BOTOX® COSMETIC is composed of botulinum toxin type A. A treatment with BOTOX® is a simple non-surgical procedure that improves wrinkles caused by contracting the facial muscles between the eyebrows, in the forehead, and around the eyes, nose, lips, and neck.
The product is administered in small injections using one of the smallest needles. Treatments take about 10-15 minutes. There is no down-time, and BOTOX® is generally tolerated well by both new and established patients. The results are natural appearing and are apparent within days. To set realistic expectations, look over our BOTOX® before and after photos.
Unlike surgery, BOTOX® Cosmetic is fast, simple, and minimally invasive, with no downtime or recovery. For many, lines are virtually "erased."
BOTOX® COSMETIC is FDA approved for the treatment of moderate to severe frown lines, crow's feet, excessive sweating (hyperhidrosis), and migraines. Properly placed, it can also be used to raise the eyebrows and the corners of the mouth and to soften the chin and jaw/jawline.
Patients looking to address volume loss in the cheeks and in the undereye regions, you may instead benefit from our dermal filler injections.
Hyperhidrosis
Is severe underarm sweating interfering with certain daily activities? Are you afraid to raise your arms in normal situations because of underarm sweat stains? Do you hesitate to buy new clothes because they might be ruined by underarm sweat? Do you worry someone will notice your sweat stains? If you answered "yes," know that you have treatment options, besides over the counter antiperspirants.
When severe underarm sweating gets in the way of certain daily activities and antiperspirants haven't worked, you may be a candidate for BOTOX® injections.
BOTOX® is approved by the FDA to treat the symptoms of severe underarm sweating when topical medicines do not work well enough. It is not known whether BOTOX® is safe or effective for severe sweating anywhere other than your armpits.
Migraines
FDA approved for patients who are affected by 15 or more days of migraines per month with headaches lasting 4 hours a day or longer. Insurance coverage varies. Please check with your insurance company for coverage.
Become a member of the Brilliant Distinctions® Program and receive special offers, exclusive invitations, and membership to the Brilliant Distinctions® Points Program where you can earn points on select ALLERGAN® products and services. Click on the above logo to register.
BOTOX® Cost
The details of each BOTOX® case determines its cost. The number of treatment areas and number of units of BOTOX® used impact the price of BOTOX®.
Arrange a Consultation
With the help of BOTOX® in Sacramento, patients can enjoy their best wrinkle-free appearance with no surgery needed. Contact our office to arrange your informative consultation with Dr. Earlyn Noll.