Halo Laser Davis
What is Halo?
The Halo Laser is a state-of-the-art laser in Sacramento. It is the most innovative laser developed to improve the appearance of skin tone, texture, fine lines, wrinkles, acne scars, and pore size, without extensive downtime. Halo laser skin resurfacing renews the skin erasing years of sun damage and aging. Halo treatments result in radiant skin without downtime and without the pain of older resurfacing lasers.
What is the Cost of Halo Laser Skin Resurfacing?
Call for pricing details at 530-756-5758. The price depends on the areas treated and the number of treatments purchased. Check out our monthly specials for any potential deals!
How many treatments will I need?
The number of treatments necessary will depend on the condition of your skin at the start of treatment and your individual treatment goals. Most patients will require between 2-6 treatments with maintenance treatments done every 6-18 months. The number of treatments will also depend on the aggressiveness of the treatment. More aggressive treatments require 1-2 treatments, while less aggressive treatments require 4-6 treatments. The frequency of maintenance treatments will be influenced by your skincare regime and how well your skin ages. As with any procedure, these treatments do not stop the aging process. We encourage all of our patients to protect their investment by -incorporating high-quality skincare products into their home skin care regimen. As an incentive, we offer credit towards these products with all of our laser treatments, called Protect Your Investment.
How do I prepare for the procedure?
We require ABSOLUTELY NO SUN EXPOSURE 2 WEEKS BEFORE AND 2 WEEKS AFTER TREATMENT. No self-tanners are evident on the skin. Prior to treatment patients will be given a prescription for medication to decrease swelling and decrease the risk of infection.
What do I expect during the procedure?
One hour before the procedure a topical numbing cream will be applied to the skin. Dr. Noll performs all laser treatments. During the procedure, protective eye goggles will be placed on the patient and the treatment performed. Treatments will typically last 30 minutes to an hour. During the procedure, patients will feel the laser handpiece rolling along the skin and hear the laser firing. Refreshing cold air blows on the treatment site throughout the procedure in Davis. Most patients rate the discomfort between 1 and 4 out of 10 on the pain scale.
How do I maintain my results?
Results are long-lasting. Once the treatment goal is met, repeat treatments are recommended every 12-18 months depending on how well the skin is aging and the type of home regimen the patient follows. Dr. Noll recommends a less aggressive treatment like BBL or Laser Genesis every 6-12 months.
"
"She's so at ease"
Imagine meeting up with your best girlfriend to talk about your skin…this is what it's like to be treated by Dr. Noll. During my consultation, I felt like Dr. Noll and I were having a natural and casual conversation about my skin and what could be done to improve its condition. She's so at ease, but confident and knowledgeable. She also has beautiful skin, which is what we should expect from a dermatologist.
What are other treatment options?
Depending on the condition being treated whether is fine lines and wrinkles or hyperpigmentation, there are alternative treatments that are either less aggressive with little to no downtime or more economical. These alternative treatments typically require more treatment sessions and more time to reach treatment goals.
Who will be performing my procedure?
Dr. Noll personally performs all laser treatments.
What are the risks associated with the procedure?
With any laser procedure, there is a risk of a laser burn resulting in the darkening of the skin(hyperpigmentation) or scarring. Depending on the laser hair loss in the treated area may also occur.
What can I expect during the treatment?
Patients typically arrive 45 minutes to an hour before the procedure for topical anesthetic application. During the treatment, In Davis, the patient's eyes are protected with laser goggles. The face is divided into 5 treatment zones and each zone is treated to a predetermined treatment level based on skin type and treatment goals.
What does Halo laser treatment feel like? Does it hurt?
Most patients experience minimal discomfort during the procedure. Patients typically describe the laser treatment as a tolerable warm prickly sensation. Immediately after the treatment, most patients will continue to feel a sunburn-like sensation for an additional 15 minutes to an hour depending on the intensity of the treatment. More intense treatments may cause a more severe sensation for a longer period of time.
Before & After Photos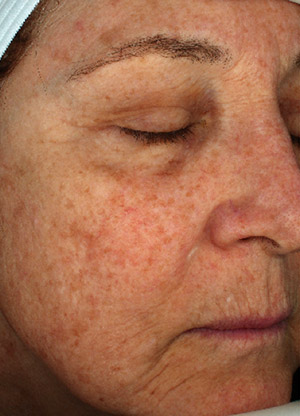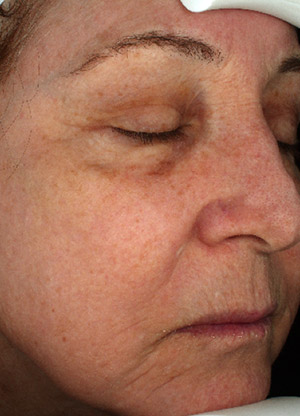 Individual results may vary
More Photos
When can I expect after the procedure? When can I wear sunscreen? Makeup?
Detailed post-procedure instructions are explained to patients both verbally and in writing after the procedure. For the first 24 hours, we recommend the application of Cicalfate and ice packs as needed. The initial sensation is similar to an intense sunburn. After the first 24 hours, your skin may begin to peel, but you will be able to put on makeup and or sunscreen. Absolute sun avoidance is required for at least 2 weeks before and after the procedure. After 2-3 days you will develop a light bronzing appearance. You may also notice swelling especially around day 3. By days 4 to 7, your skin will slough the bronzed skin revealing your new skin, usually a pink healthy glow, also known as the HALO GLOW.
When can I return to my usual skincare routine?
Patients usually return to their usual skin care routine 1-2 weeks after the procedure depending on the intensity of the treatment.
---
---
What are my payment options?
We accept cash or credit cards. We also offer CareCredit.
Is this procedure covered by my insurance?
Halo Laser treatments are not covered by insurance.
Can I use my Flex Spending Account to pay for this procedure?
Flex Spending Accounts vary by carrier. Cosmetic treatments, like Halo, are not typically covered by Flex Spending Accounts
Do I have to pay for touch up of for subsequent treatments?
Yes, additional treatments are not covered. Laser treatments can be purchased individually or in packages. Patients typically purchase a package of at least 2 treatments. Package pricing typically saves 25% per treatment.
Schedule a Consultation
Please contact us today if you have any questions about Halo Laser in Davis or would like to schedule a consultation at Davis Dermatology. We will build the ideal treatment plan for you in order to help you achieve smoother, more radiant skin.
Related Links